This 15 most stylish female celebrities manage to always capture my attention with their stunning fashion choices anytime they appear on screen. Whether it's a classic Nollywood red carpet style or unique outfit worn for a casual ceremony, or a glam outfit for a perfect Instagram post, the ladies on this list are without a doubt one of a kind fashionistas. They aren't afraid to take risks with their clothes, their hairstyles or with anything else for that matter. Sure, sometimes the risks don't pay off, but when they do, they hit the nail right on the head.
Every year, This Ladies are picked by various Magazines and Award Shows as best dressed female celeb on different occasions. Topping all list and posts In 2014, it was the likes of Genevieve, Rita Dominic and Omotola. In 2015, it was Yemi Alade and Mercy Aigbe. And those stylish winners were chosen by a handful of fashion editors. I compiled this list based on that analysis.
Though, most celebrities often have access to a slew of fashion designers and top stylists to help them select the perfect outfits, but still some celebs just can't pull it all together. Not so for the stylish chicks on this list. Each one demonstrates the confidence to rock almost anything - even things that other actresses, musicians and/or models would never, ever try on. Anyone who knows fashion will tell you that flawless style takes more than awesome clothes - it's also about attitude, carefulness and consistency, whether it's owning the AMVCA, MAMA'S red carpet or an ordinary social media post to stun fans. Photos are everywhere, so many of the A-list female celebs tends to be careful with what they put out they for the mass.
Now check out my consistently best dressed famous women and style icon...
1. Yemi Alade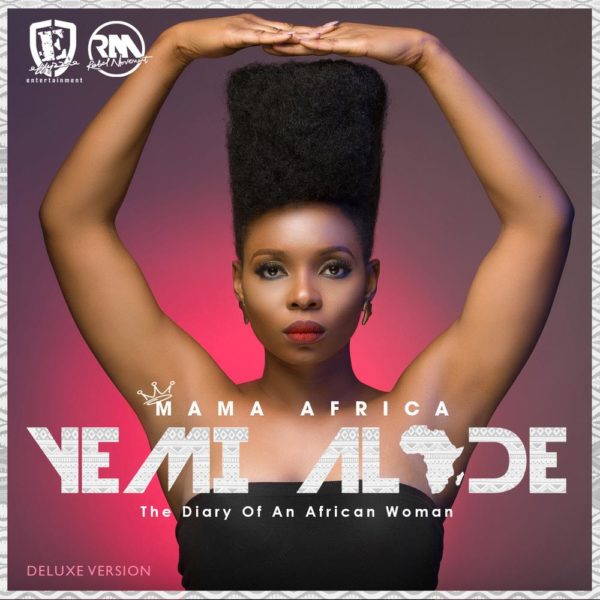 The johnny crooner has been blazing on several red carpets and her looks are never a disappointment. Mama Africa, ever known for her daring choices when it comes to African print, colorful fabric and shinning accessorize. Her choice of outfit at the MAMA'S were a tad surprising. Not just because she chose to cover up, her 5 dresses were so beautiful. The pink floor length iconic gorgeous dress combined with a floral like head tie had her looking almost ethereal.
She exudes style wherever she goes. even her sense of style in her music video are just flawless to talk about!
Anyone who knows fashion will tell you flawless style takes more than awesome clothes - its about the confidence to rock any outfit!
Read excerpts from her chat below:

On her style and African identity:
When it comes to hairstyle, this is what I know. I don't know how to take care of weaves and hair extensions. If a stylist isn't there, my hair would turn out horrible, I would look like somebody who just got hit by a car. I may have everything I need to make the hair look good but once I am the one doing it, it can never work. I decided to go natural and since then, I am fine. I sleep and wake up and just do a bit of touch up and I am fine. It suits me and I love it.
On why she dresses African:
I started acquiring African wear about four years ago. I never had any African outfit. When I started this career and I needed to explore, I found out that most of the western clothes are basic. With Ankara, you can find varieties in patterns. I decided to go for creativity. I wanted to create my stuff. That was how the love for ankara started. It has worked for me all this while. It is actually entertaining me. Maybe if I get bored, I might look for another style. But I doubt it; Ankara is a very lovely fabric
2. Mercy Aigbe.
Mercy Aigbe Gentry..
The fashion icon for all local and international fashion designers across Nigeria home and abroad.
Actress and fashion enthusiast, Mercy Aigbe Gentry always aiming for a sophisticated and glamorous look. She's well known for her great interest in African prints, home made Nigerian Fabrics (Ankara) and her love for photography...She even invented her on photo shot pose which has drastically transformed all Nigerian girls to artificial cripples (lolz)...
The fashion queen has honored countless magazine covers and several fashion brands... She was awarded the best dress female at the AMVCA
any fashion catalog without her style in it is not complete...her Instagram photos are enough to create the world biggest look book!!..lolz...she's a madam in Fashion...respect!!!!
She is unarguably one of the super stylish Nigerian celebrities, so why not take her fashion game to the streets of London. The multi-talented actress/producer shared some shots from her London Style Diary and she's looking really flawless in mind blowing ensembles.
3. Mo'cheddah
Mochedah..
Every red carpet has its fashion slayers, the 1960 chicks and the 'what were they thinking'.
unarguably Mochedah is well known as the bad-ass slayer on most red carpet events and on Instagram post. Always seen in a stunning In-vanity dress, great shoes, flawless makeup and one of her trademark hair styles, her choice of jewelry always on point.
Nigerian singer and fashionista, Mo'cheddah is delectably elegant in anything she wears. She's distinct from all other celebrities because her sense of style is unique and Often admired for her impeccable style preferences. She owns a clothing line
Mo'cheddah Clothing
also brand ambassador to countless Fashion lines.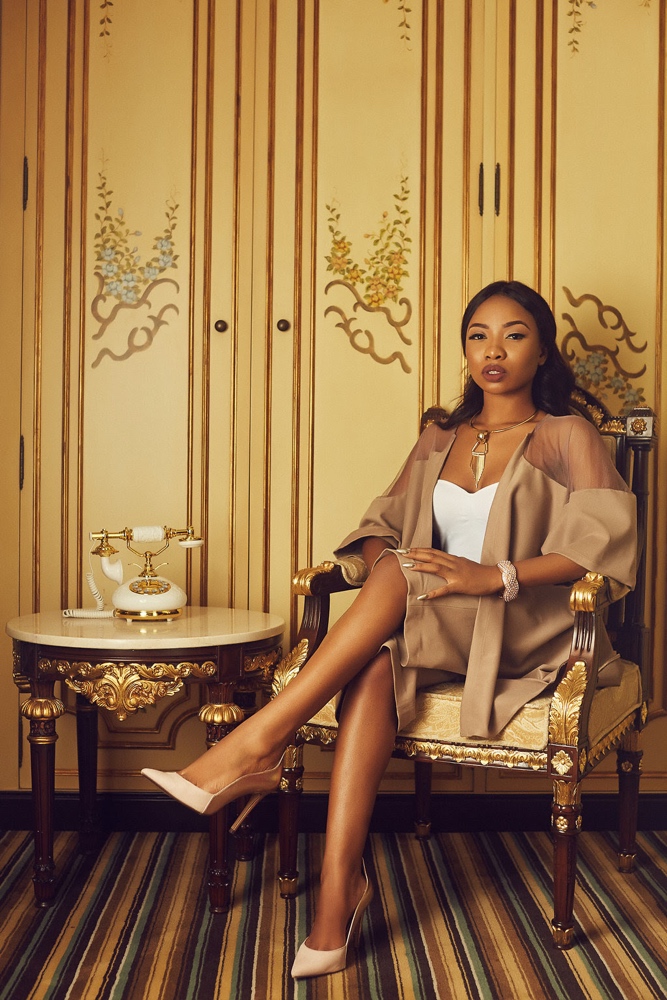 ..who else can do it better?
4. Toke Makinwa.
Media personality, Toke Makinwa, is one fashionista whose fashion style is always like a breath of fresh air. Her undeniable love for prints ensembles is however what we are focused on in this collection of her looks.
Well known For having one of the best makeup games, to rocking the best outfits, from jumpsuit, to off shoulder blouses, African prints....name it!!! shes extra fabulous and will win best dresses all the time.
Toke Makinwa keeps climbing the best-dressed list for Nigerian female celebs. Even in competition with Western female celebrities, am sure she will make us proud.
5. Toyin Lawani.
There is no doubt Fashion designer/stylist and CEO of TiannahsPlaceEmpire, Toyin Lawani, is one hard working lady who knows what fashion is really about. When it comes to fashion designing/creativity, you can tell Toyin Lawani is multi talented! her brand is one of the best selling clothing line in Nigeria and West African at large.
6. Juliet Ibrahim.
Juliet Ibrahim.
Apart from her indisputable ability to act, she also won the vote of many fans because of her fashion sense. Juliet Ibrahim has the glam habit of 'wowing us with her outfits at the events this year.
The divorced mother of one strutted her stuff on the red carpet in this statement-making black House of Jahdara custom-made floor-length dress which hugged her in all the right places. She was a sight to behold and admire as her hair was drawn up in bridal style. The beautiful diva also finished off her glam ensemble with some statement drop earrings from House of Glamour, Accra. We just love it! Shes well known as a glittering warm-up to the biggest awards night across the country, and though polished hair and makeup appeared as a rule for her, she tops all list across all social media as best beauty looks of all red carpet.
Juliet Ibrahim at the AMAA 2016
7. Seyi Shay.
Seyi Shay
Velvety voice singer, Seyi Shay, has a fearless attitude toward fashion. always surprises with her edgy fashion choices. Only very few people could pull the risky stunts Seyi Shay gets herself involve with, Whether she's stepping out for a movie premier, rocking a Music concert stage or strolling the streets of Lagos, 'Right now' crooner, Seyi Shay, always radiates with the impossible chicness of an off-duty Sultry singer.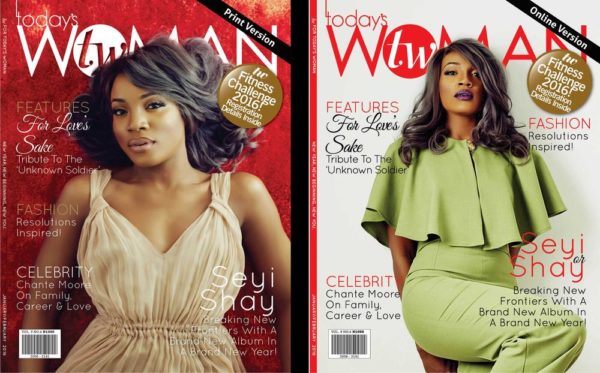 8. Adunni Ade.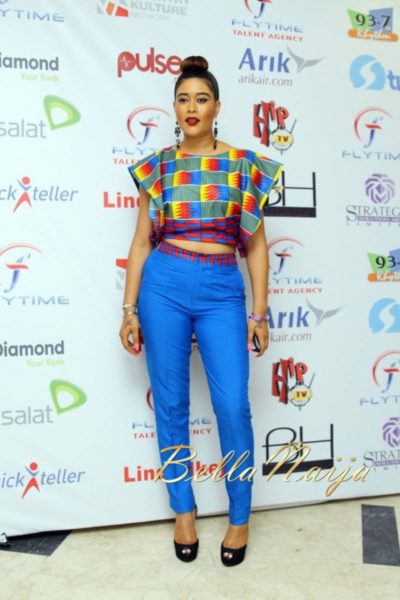 9. Laura Ikeji.
Laura Ikeje.
The Editor and Best Fashion Blogger of the 2016 certainly made 2016 the year to debut her fashionable side. She rocked awesome attires for red carpet events and slayed flawlessly on all occasions.
The fashionista always make headlines for the press to talk about each time she's spotted on the red carpet. Example is her Breathtaking Dress for the Dj Jimm Jatt 25th celebration at Intercontinental.with her teal floor length dress, well cut and a perfect fit, the cut on the dress were just the right amount of dramatic.
10. Tiwa Savage.
Tiwa Savage.
There's been a boost in fashion consciousness and we see a lot of people trying to look their best always....i think the sudden evolution has affected our Melodious Queen, Tiwa Savage. Apart from her flawless make up, her dazzling skin, her killing shape, heart healing voice and her glam style in her music videos.. Back in 2014/15 Tiwa Savage is one of those celebrities you will see on the rep carpet and be like..'''is that tiwa savage?...why is she dressed like that? I find it hard to figure out why she looks so different on rep carpets from the normal Mavin Queen we see in Music Videos... We thank heaven she's doing great job this year!!! Putting all effort to look good.
However, she still need to work more on rocking stages and making headlines on the rep carpet... We know you are scared of creating a scene, Ma'am Grab a celebrity stylist! They are almost everywhere now!!!
We're aware you've been through fire and ice earlier this year, lots of controversial in your marriage...we totally get!
Please your fans (am a crew) need more of you on the rep carpet. Too bad you weren't able to make our top 5.
Truth be told, you pulled some good stunt on the limelight this year...thumbs up for that!!!